HVG Facades' ZINTL® range of interlocking panel profiles offer a fully compliant, safe, cost effective and aesthetically pleasing solution that is certified to AS1530.1 and tested to a Weatherproof test AS4284. Providing fire resistant external cladding that is versatile and non-combustible, ZINTL® offers timelessly elegant and enduring material.
The ZINTL® range is proudly Australian Made and Owned®, giving you extra piece of mind when choosing your next façade design.
ZINTL uses ezy HD² technology, this is the first coating system to achieve a high definition, supremely durable wood grain finish using an advanced powder-on-powder coating system. Unique to the Australian market, ezy HD² technology has been widely used in Europe since 1997 and is particularly popular in Italy, where 80% of all wood-effect coating is created with ezy HD².
ezy HD² provides aluminium with an authentic-looking woodgrain finish that's long-lasting, easy to clean and doesn't require any of the costly, time-consuming maintenance of real wood. Unlike timber, aluminium isn't vulnerable to attack by termites, and will never warp or rot. 100% fully recyclable, aluminium is also a sustainable product that's greener, safer, and even stronger than wood.

ZINTL which uses ezy HD² technology is suitable for use in coastal and tropical environments, areas exposed to high humidity, pollution, and salinity, as well as other extreme weather conditions. It can even be used on aluminium products that are situated right at the water's edge and for buildings, at any height, in all BCA classes. Suitable for residential, commercial, education, sporting, and health care projects, its modern design and durability make it particularly well suited to coastal properties and high traffic areas.

ZINTL® interlocking panels are available in a 300mm width alternative, giving you the freedom to mix and match profile sizes and design even more creative facades. You can combine the new ZINTL® 300 profile with our existing Linea, Standing Seam 190 and Shadow 200, in any sequence you like, for a completely unique look. The increased board width even brings the added benefit of a 30% reduction in installation time. Ideally suited to larger commercial projects or multi residential, the ZINTL® range offers maximum design impact when viewed from a distance.

Manufactured from high quality, corrosion resistant material, the ZINTL® aluminium cladding system won't oxidise over time, so it's a smart choice for all locations, conditions, and environments.
ZINTL® interlocking aluminium cladding system is offered in a wide range of Interpon and Dulux powder coat finishes – over 250 colours to choose from; as well as a selection of anodised and wood grain architectural finishes, that will provide any property a beautifully refined aesthetic.
100% recyclable and 100% Australian made
ZINTL® aluminium cladding panels are 100% recyclable, making them an excellent, environmentally friendly, and fully sustainable choice. What's more, the ZINTL® range is proudly owned and made right here in Australia, giving you even more peace of mind when deciding on your next façade.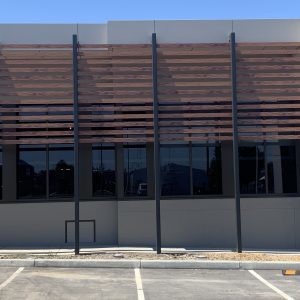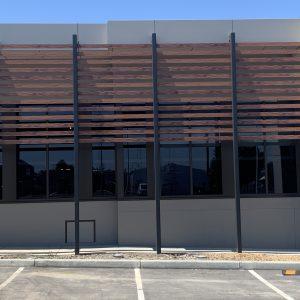 ZINTL® Battens – Australian Made and Owned®
ZINTL® Batten is a versatile architectural facade system suitable for use in residential, commercial and industrial sectors. Whether horizontally or vertically aligned, with its clean lines and contemporary look, ZINTL® Battens will bring a sophisticated and aesthetic impression to any architectural environment.
ZINTL® Batten comes in two different widths, 25mm and 50mm, as well as a selection of various height options to choose from. ZINTL® Batten uses a simple 'snap in' locking system to aid the installation. Simply mount the batten inner then firmly snap on the batten outer until a 'click' is heard.
ZINTL® Architectural Battens are extruded from 6063-T5 premium grade aluminium alloy. High corrosion resistance and weatherability, perfect for commercial applications.
Standard Stock Length is 6.5 metres.
With a wide range of Wood Grain and Powder Coating finishes and varying size options available, ZINTL® Batten allows designers to realise their creative vision and bring their designs to life.
Fully weatherproof – ZINTL®
A key focus in the building industry today, weatherproofing refers to the process of making a building capable of withstanding the effects of weather. It is an essential aspect of any construction.
Proper weatherproofing helps avoid undue dampness and deterioration of building elements, as well as prevents unhealthy or dangerous conditions developing inside the building that could affect the well-being of its occupants. Not only does weatherproof cladding minimise the chance of problems occurring once construction is finished, but it also keeps maintenance costs down in the long term. ZINTL®, is fully weatherproof.
HVG Facades is proudly leading the market in the testing of its second premium weatherproof cladding system – ZINTL®. A premium interlocking aluminium cladding system, ZINTL® has passed all the compliance requirements of the NCC 2019 Weatherproofing Verification Methods V2.2.1 and FV1.
Contact HVG Facades today for more information on ZINTL® Batten system, ZINTL® interlocking cladding system. Alternatively, you can order samples online.
Call 1300 881 712 or email: [email protected]